Toynbee Hall
2018
A project with Simon Leach Design
2017–2018
HLF funded

Grade II Listed

Interpretation by Toynbee Hall
Architecture by Richard Griffiths Architects
Exhibition build by Scena
Graphic production by Displayways
In 2016 we were appointed to develop and deliver the interpretation design for the refurbishment of Toynbee Hall – the first University Settlement, founded in London's East End in 1884. Toynbee Hall was set up as a place of education and inspiration for inner city working classes and as a place for future leaders to live and work as volunteers, bringing them face to face with poverty in an attempt to develop practical solutions for tackling society's inequalities. It was an ambitious 'world first' and went on to shape transformative social policy at both local and national level. It was a key player in the founding of the Poor Man's Lawyer scheme in 1898 and the Child Poverty Action Group in 1965. Clement Attlee and William Beveridge were among its residents, both later becoming key architects of the Welfare State in the UK.

We designed a series of interpretative installations and furniture to showcase and reveal Toynbee Hall's influential campaigning and support for political and social reform. Adaptable and changeable displays use actual size facsimiles of archival records together with first-hand accounts of personal memory to emphasise the power of the individual when it comes to supporting schemes of national importance. In addition to the interpretation we also designed new interior signage throughout the buidling.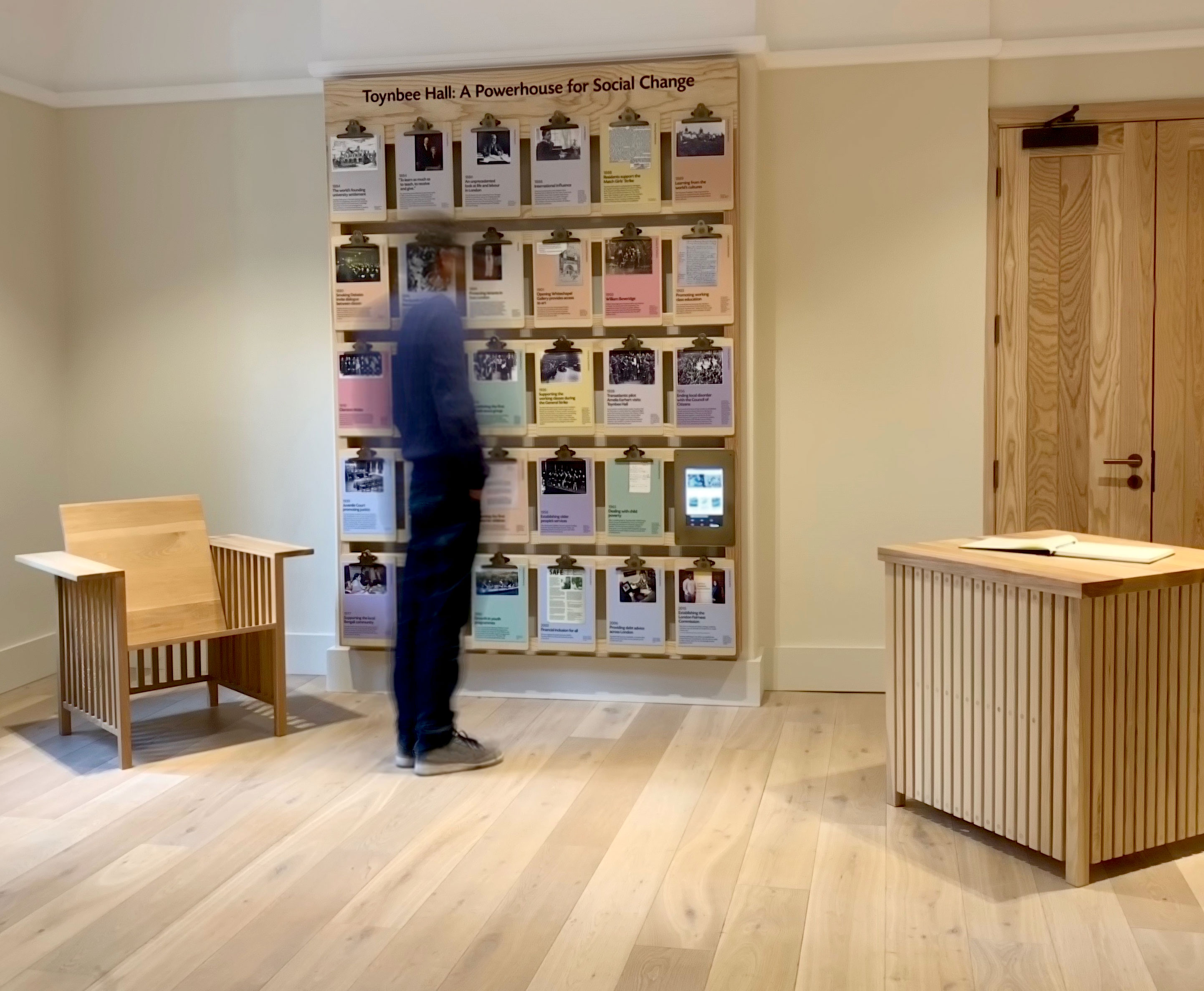 All rights reserved. David Sudlow Designers assert their moral rights to the work shown here. Much of it has been authored in collaboration with others and we share those moral rights with our co-authors.

No
part of this website may be reproduced in any form of by any means without permission in writing from David Sudlow Designers. Photographs not by David Sudlow Designers are credited separately and the copyright of those images remains with the named photographer.
David Sudlow Designers
546–547 Royal Exchange
Old Bank Street
Manchester M2 7EN
Registered in England and Wales
No. 9352226
VAT No. GB305225150