The Painted Hall
Old Royal Naval College, Greenwich
2019
For The Old Royal Naval College
2015–2019
HLF funded, £3.1m
Grade I Listed, World Heritage Site
Architecture by Hugh Broughton Architects and Martin Ashley Architects
Painting conservation by Paine & Stewart
Special stone carving artwork by The Building Crafts College
Digital-audio guides by ATS
Specialist bronzework Scena and Michael Whiteley
Special works by Sue Parry, Lost Heritage and Team Impression
Photography by Philip Durrant
Awards
Museum & Heritage Awards Best Conservation Project 2019
RIBA London Conservation Project of the Year 2019
RIBA National Award 2019
The Painted Hall sits within the Old Royal Naval College on the south bank of the River Thames in Greenwich, London. It was originally designed in 1696 by Sir Christopher Wren with his assistant Nicholas Hawksmoor as a commission by Queen Mary II and King William III to create a Royal Hospital for injured and retired sailors. The 4,000 sqm painted interior was by Sir James Thornhill between 1707 and 1726. It is considered one of the most important Baroque painted interiors in Europe and often referred to as the 'Sistine Chapel of the UK'. The site is recognised as a World Heritage Site and its buildings are Grade-I listed.
Over a period of four years we worked with Simon Leach Design and the wider project team to reinterpret the paintings and design a new visitor experience. We planned and conceived the interpretative masterplan and subsequently developed and delivered designs for both the Painted Hall, new King William Undercroft and Sacker Gallery. Our design comprised various items including bespoke furniture, moveable mirror tables, braille and tactile renderings, handling objects, printed guidebooks, activity bags and touch-screen digital guides. During the painting conservation visitors were able to join scaffolding tours to see the paintings up close and life-size details have been faithfully reproduced in the graphic design scheme.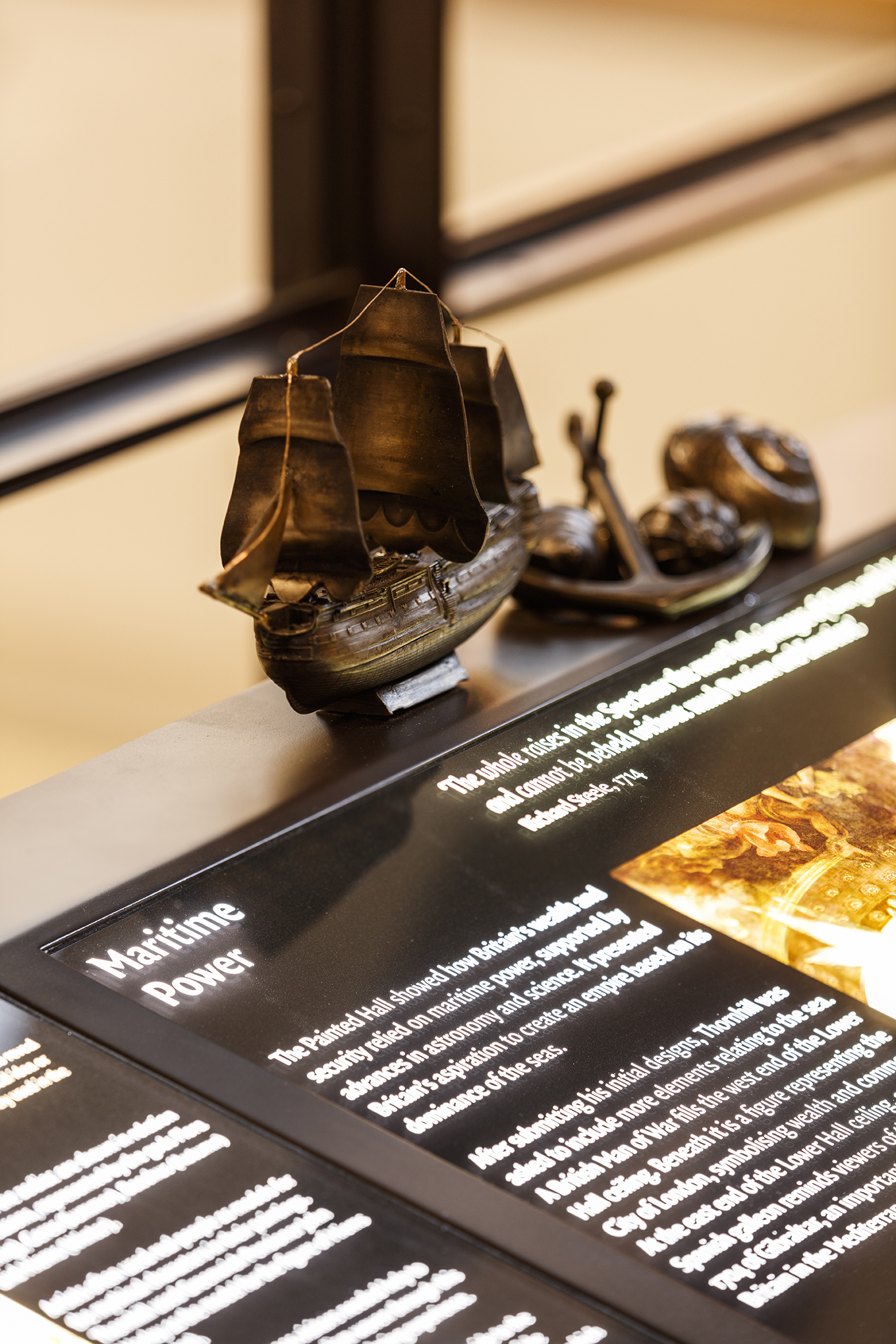 All rights reserved. David Sudlow Designers assert their moral rights to the work shown here. Much of it has been authored in collaboration with others and we share those moral rights with our co-authors.

No
part of this website may be reproduced in any form of by any means without permission in writing from David Sudlow Designers. Photographs not by David Sudlow Designers are credited separately and the copyright of those images remains with the named photographer.
David Sudlow Designers
546–547 Royal Exchange
Old Bank Street
Manchester M2 7EN
Registered in England and Wales
No. 9352226
VAT No. GB305225150